News
---
"Smart Classroom" Project Reaches One Lakka Rufiyaa!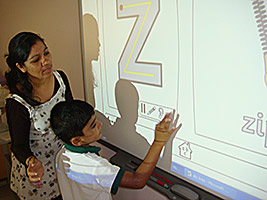 The School Board and Parent Teachers Association of RAEC are jointly raising funds for the Smart Classroom project which has reached nearly 100 thousand Maldivian rufiyaa. The project aims to turn RAEC classrooms into digital classrooms with the use of modern technology like multimedia projectors, the internet and so on.
The project began with the aim of fixing LCD monitors in 10 classrooms but it has been revised and extended to include multimedia projectors in 16 classrooms by the end of this year. As we believe that the project will bring tremendous changes in the methodology of teaching and in students' performance. Moreover the children can more easily visualize the material delivered by the teacher and they can also prepare and present their own presentation in the classroom.