News
---
Mrs. Jennifer and Mr. Mathew Retreat after Their Invaluable Service in RAEC!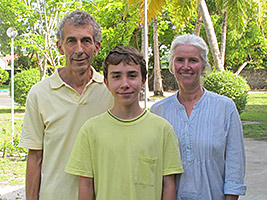 Ms. Jennifer Clarke and her husband Mr. Mathew who have been part of RAEC for the last six months are leaving to their home country next week. The services they have done for RAEC as well as R.TRC are inestimable.
The experience and the knowledge of Jen have helped a lot to create a marked difference in the approach of teaching and learning activities in the classrooms. Her constructive feedback helped our teachers to improve their teaching methodology. Mr. Mathew has created the school website and students data base for the school which would have been much more difficult without his guidance and assistance.
Above all the corporation and affection they have extended throughout the tenure will be reminiscence in the minds of the staff of RAEC. We all wish you a very happy and wonderful life ahead.