News
---
RAEC hosts 2 Professional Development Workshops during the holiday break.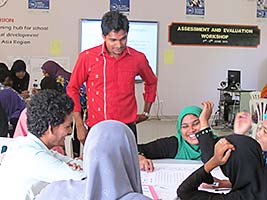 Two Professional Development workshops were conducted concurrently at RAEC from the 3rd to the 8th June 2011. Participating teachers were from Raa and Baa atolls. 32 Primary teachers attended the Assessment and Evaluation workshop and 33 Secondary teachers attended the workshop on Assessment and Classroom Management.
Both workshops were funded by the World Bank through the Integrated Human Development Program. It was agreed by the participants that the workshops were a great success and that teachers have much new knowledge and many new skills to take back to their schools.
The workshop concluded on Wednesday evening with a closing ceremony that included a delicious meal provided by the PTA and an exciting performance of Boduberu by Meedhoo performers.