Smart Classrooms Launched

After much preparation, RAEC Smart Classrooms have now been officially launched. The ceremony celebrating the launch was held at Raa Atoll Education Centre on the 1st May 2011 and showcased the range of computer technologies that will be used in the Smart Classroom.

Five demonstration Smart Classroom lessons were presented at the meeting in order to give some idea of how these classrooms will be used in teaching and learning.

Jaufar Dawood, President of Raa Atoll Council, attended the function as a chief guest. More than 400 invitees, including parents and students from Meedhoo as well as Maduvaree, Inguraidhoo and Fainu Schools also attended the meeting. Parents, teachers and students of RAEC performed items of entertainment that were enjoyed by all.

More than Rf.256,000 has been raised for the project from different bodies as well as individual parents. This mega project started at the beginning of the year and was achieved within a 9 month period.
News
ރ. އަތޮޅު ތަޢުލީމީ މަރުކަޒުގެ ހުރިހާ ކްލާސްރޫމަކީ ސްމާރޓްކްލާސްރޫމް ތަކަކަށް ބަދަލުކުރުމަށް
A team of 12 Education Ministry officials and school Principals from Sri Lanka, accompanied by 2 representatives from UNICEF...
Raa Atoll Education centre students' subject workshop programme started on July 2, 2011, Saturday to master ...
Two Professional Development workshops were conducted concurrently at RAEC from the 3rd to the 8th June 2011
Ms. Jennifer Clarke and her husband Mr. Mathew who have been part of RAEC for the last six months are leaving to.......
The School Board and Parent Teachers Association of RAEC are jointly raising funds for the Smart Classroom project which has reached nearly 100 thousand Maldivian rufiyaa.......
ކޮންމެ އަހަރަކު ގްރޭޑް 4 ން ދަށުގެ ކުދިންނަށް އަމާޒުކޮށްގެން ރ. އަތޮޅު ތަޢުލީމީ މަރުކަޒުގައި ކުރިއަށްގެންދާ ސްޕޯޓްސް ފެސްޓިވަލް
Welcome to Raa Atoll Education Centre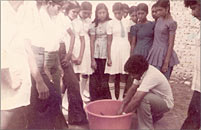 Our Vision
Our vision is to provide a happy, caring and stimulating environment where children will recognize and achieve their full potential, so that they can make their best contributiion to Muslim Maldivian society.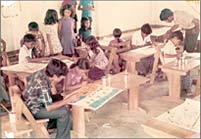 Our Mission
We at Raa Atoll Education Centre (RAEC) recognize that each child is an individual; that all children are creative; that all children need to succeed. Therefore, Raa Atoll Education Centre (RAEC) respects the individual needs of children; fosters a caring and creative environment; and emphasizes the social, emotional, physical, intellectual development of each child.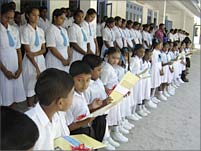 Our Philosophy
at Raa Atoll Education Centre (RAEC), we believe that:
all students can learn,
all have a right to fair and equal opportunities,
individuals can reach their fullest potential with careful nurturing and encouragement in a supportive environment,
the role of the teacher is to facilitate learning and to guide students through appropriate learning experiences,
setting a good example is the best way of attaining moral standards,
collaboration between school, home, and community will facilitate learning and help students to become contributing members of Muslim Maldivian Society.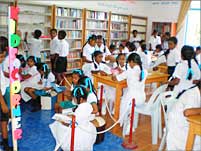 Our Values
In Raa Atoll Education Centre (RAEC), we:
Respect and care for one another,
Abide by the principles of Islam and the Maldivian Law,
Embrace every opportunity to learn and lead,
Create opportunities for challenges and set high standards for ourselves.
Our Motto
Each to Succeed